The Engage tab is used for customizing the post-purchase experience that your shoppers have with your brand.
You'll notice at the top of the screen that there are three sub-tabs for Branded Content, Shipping Notifications, and Product Catalog (Discover Only).
Branded Content
This is the tab that we use to manage branded content as it shows up in the Route app for Route Discover. If you're unsure what Discover is, we recommend checking out the Discover course and coming back to finish this section.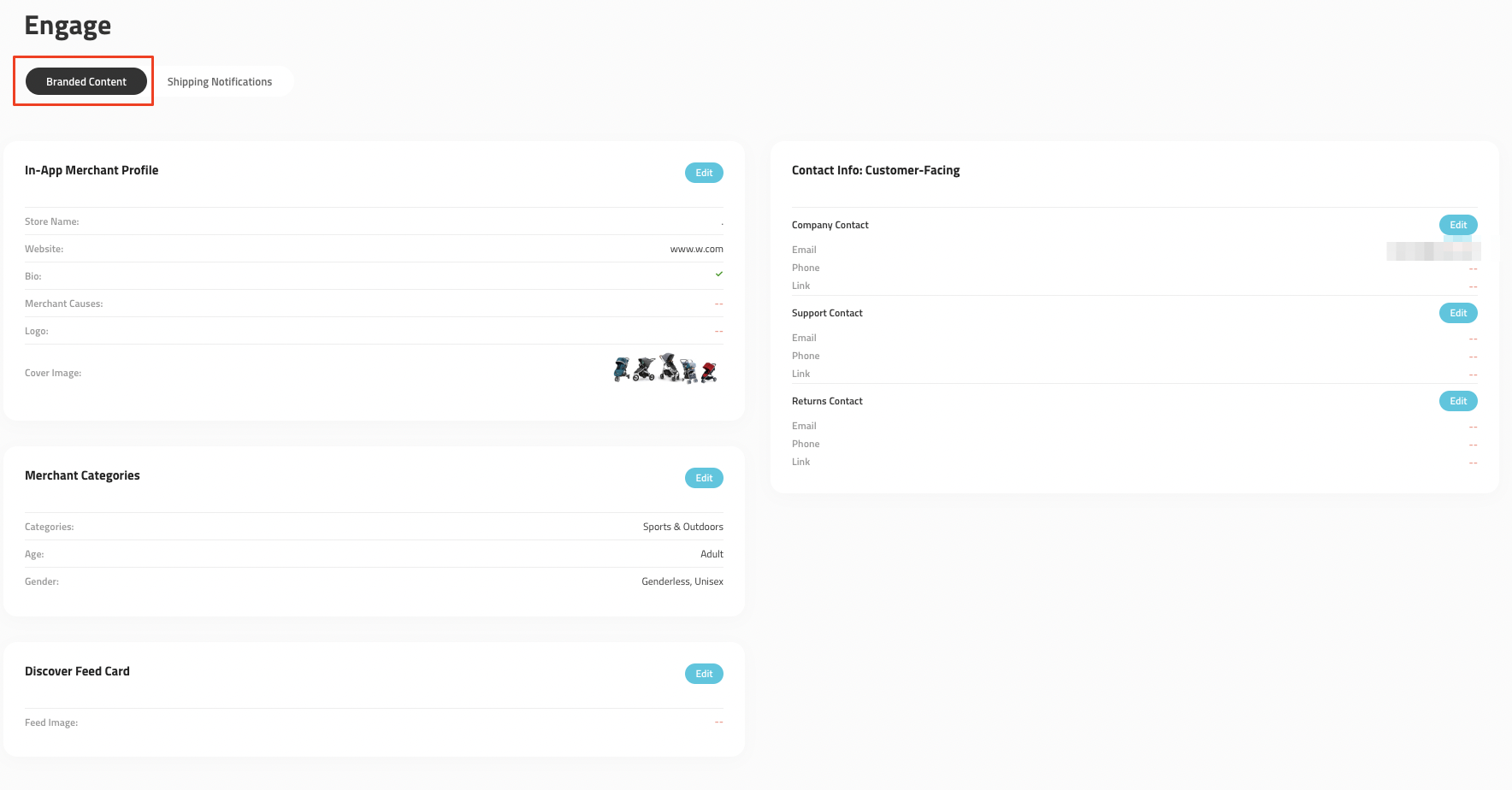 If you've completed the Discover course, you'll know that Discover is in an early access stage for our Shopify merchants, and other platforms will be following very soon! Parts of the Engage tab will only apply to early access Shopify merchants.
Travel through each tab and fill out the necessary information within each one.
In-App Merchant Profile
Clicking on "edit" will open a side window that allows you to edit the information that is shown in your profile on the Route app. This includes store name, logos, a bio, and the option to add various merchant causes that apply to your business.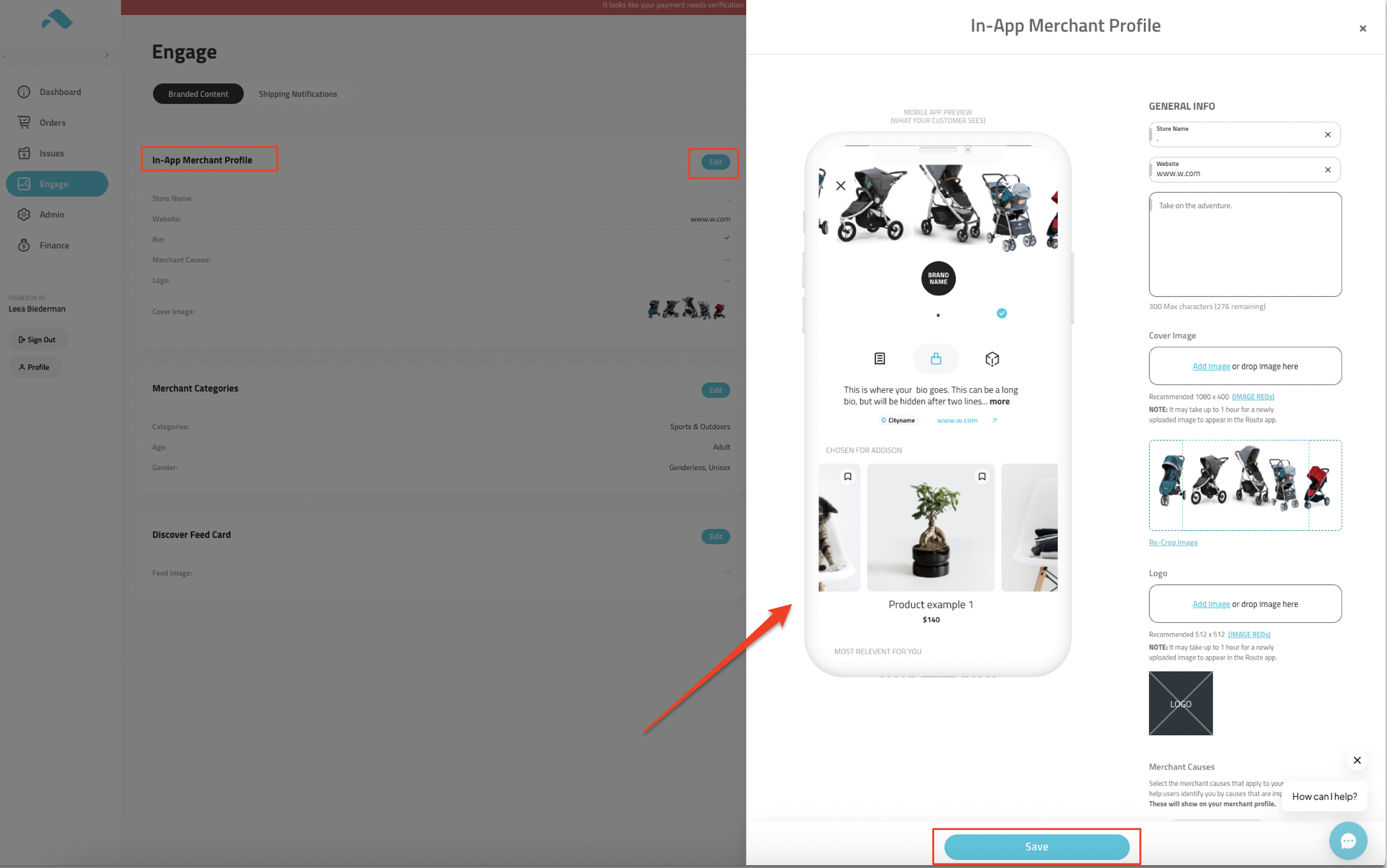 Contact Info: Shopper-Facing
Next, we have a section dedicated to contact information we can provide to your shoppers on your behalf. The contact information that you provide here will show up on the Route app under your merchant profile and will be provided to the Route support team for any tickets that are filed.
Any information you don't provide will not show up on the Route app. If you're an early access Shopify merchant, we have a few additional categories tailored to branding your in-app profile.

Merchant Categories
This section is dedicated to different categories, themes, and demographics that apply to your brand. The information provided here will help shoppers who are interested in similar initiatives find your brand/products when they are searching in the Route app.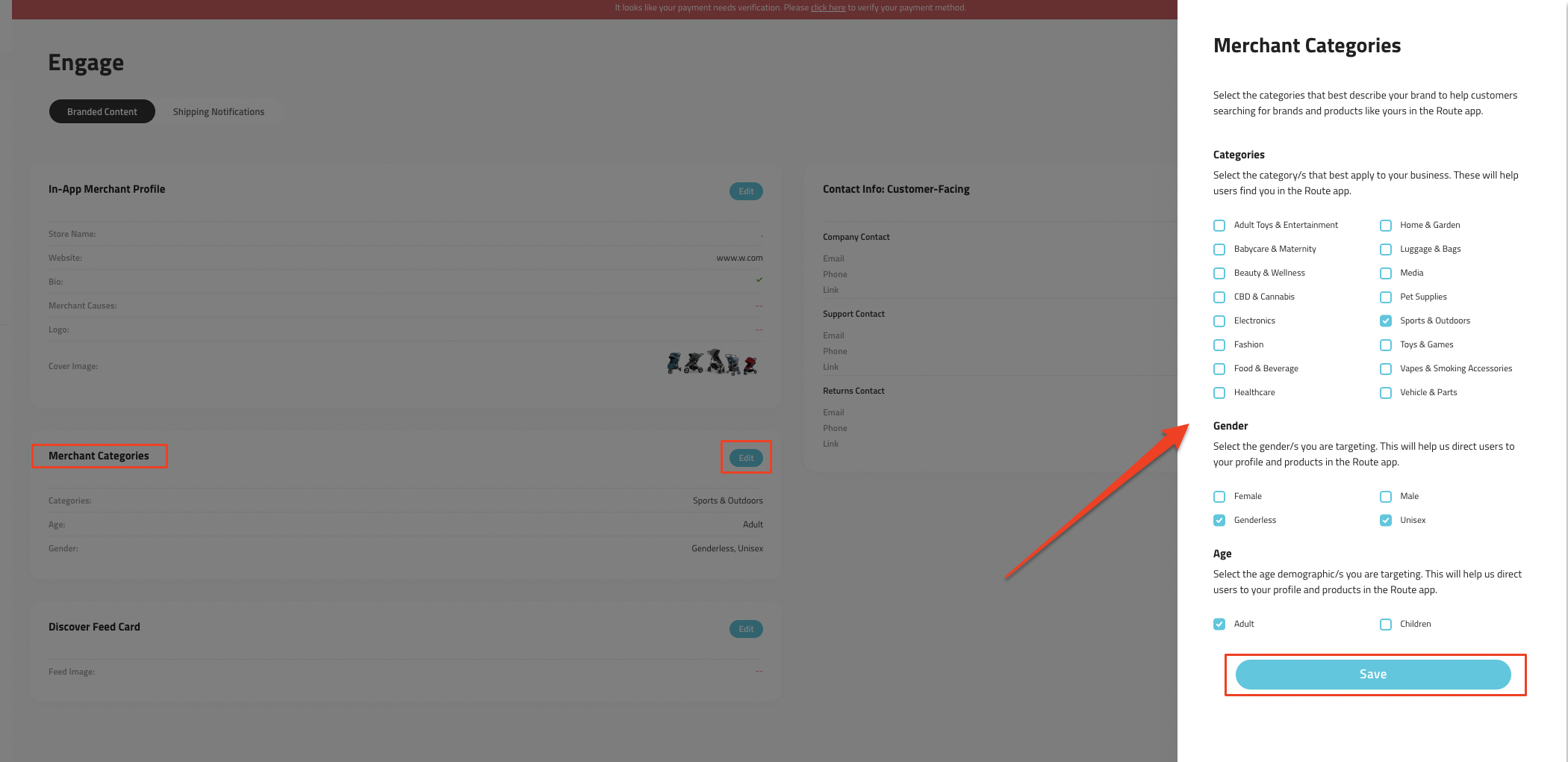 Discover Only: Discover Feed Card

Since Discover is a feature on the Route app that encourages shopper re-engagement, we want to help showcase your brand as much as possible. The Discover feed card image will appear for shoppers who are interested in products and brands like yours. This image should be a vertical image and should be different from your cover photo.
(Currently only available for Shopify Early Access merchants, other platforms coming soon!)
Shipping Notifications
In this tab, you will be able to enable different types of notifications to keep your shoppers informed about different stages of the shipping process. We provide email, SMS, and app notifications, and these can be adjusted to your preferences.
The two types of shipping notifications we offer are:
Pre-Shipment: Keep your shoppers informed about the status of their orders before the package ships.

Tracking: Let your shoppers know where their order is during different phases of the in-transit shipping process.
By clicking on the settings button under the notification types, you have the ability to preview and edit the message that's being sent across the different mediums. These mediums pull in information from the branded content tab, so if something looks weird, we recommend ensuring your content is up to date.
While in settings, you have the ability to edit the text and colors that show up in the email notifications that are sent to shoppers. Simply click on "edit" next to the email notification type to explore the customization.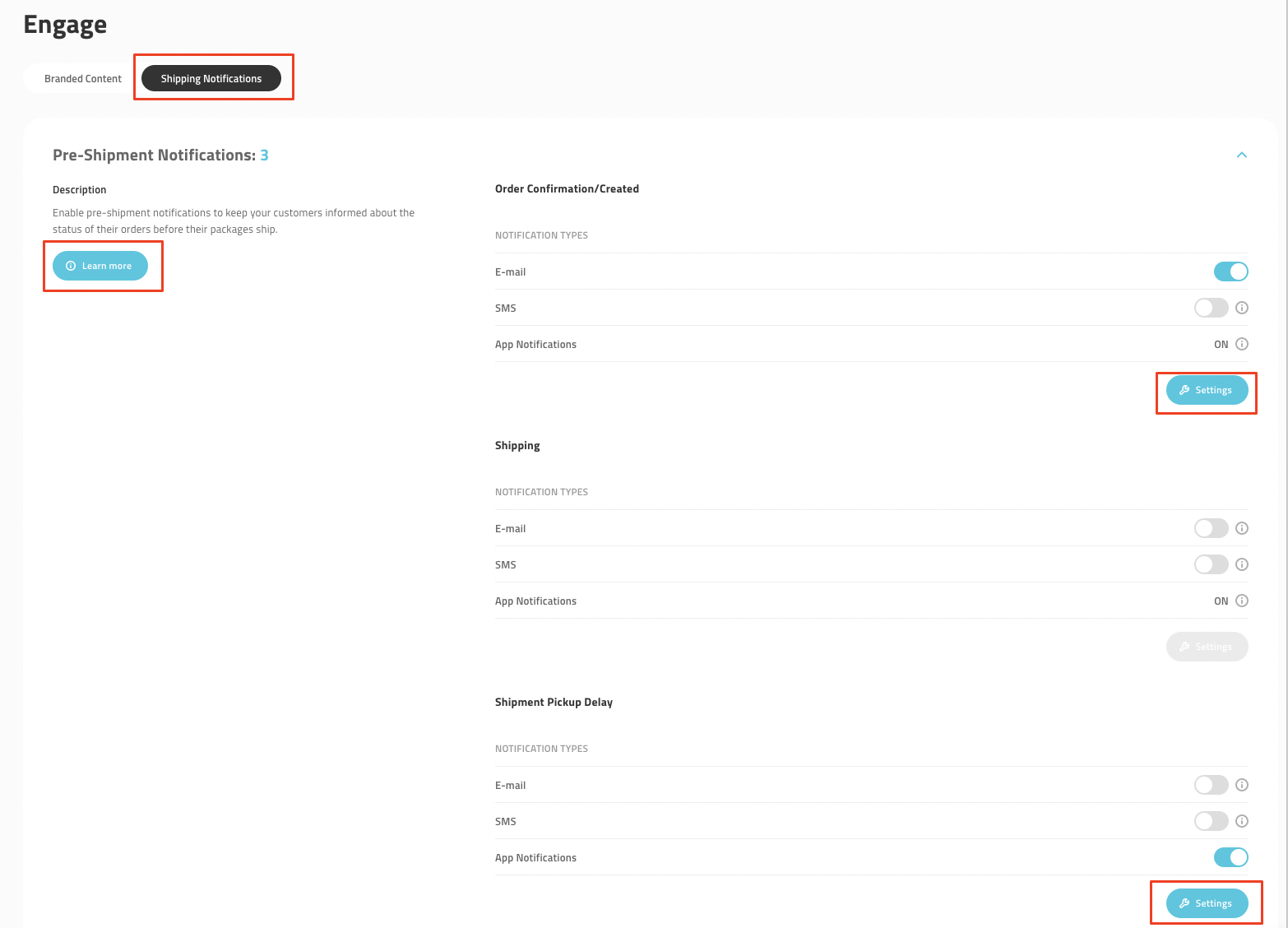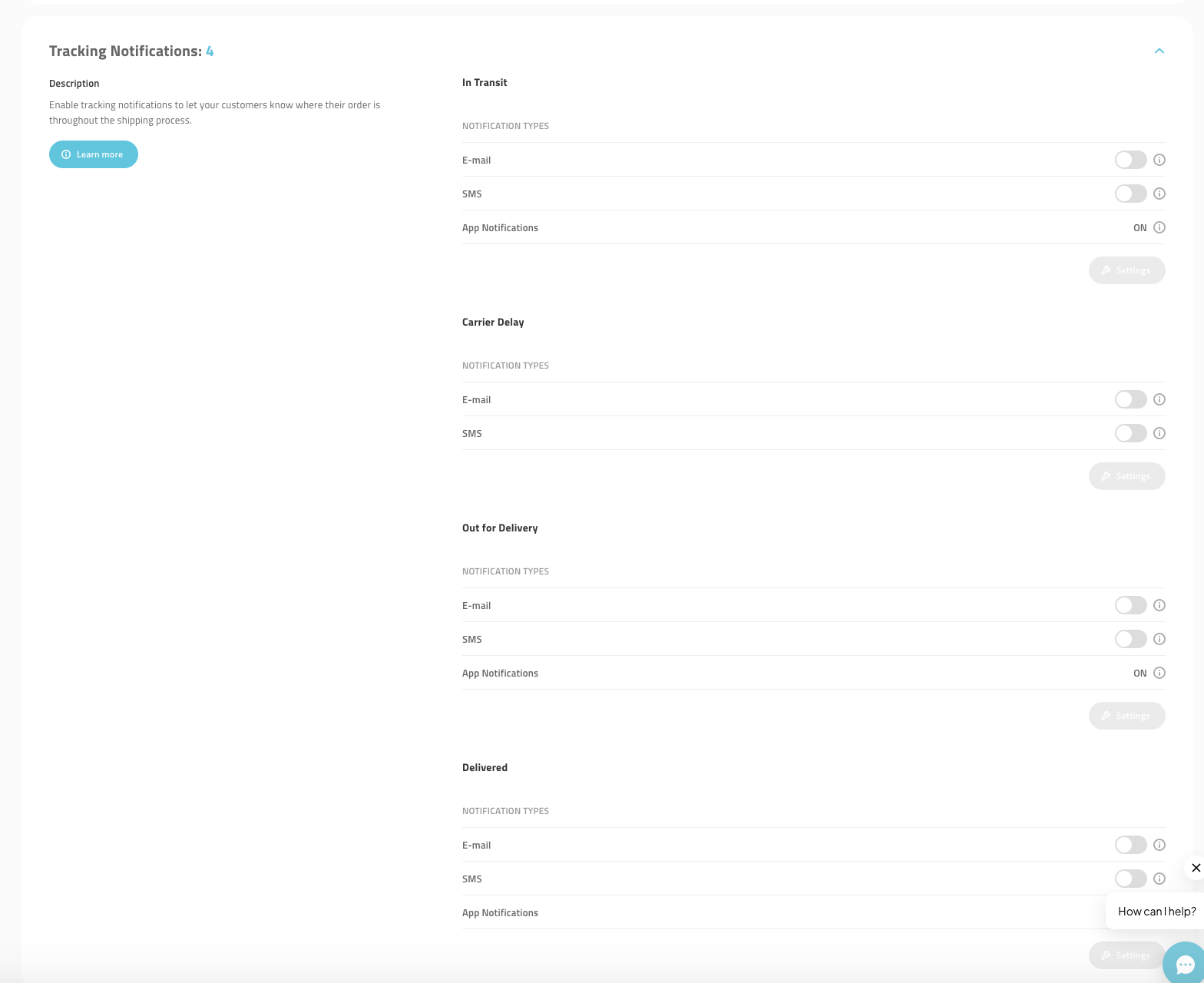 ATTN: Cannabis & CBD Merchants
Due to policies with our SMS integration, we are unable to send SMS text messages for merchants who sell any cannabis, CBD, or paraphernalia. We apologize for the inconvenience this may cause. For any questions or concerns, please see our SMS cannabis policy in our help center.


Product Catalog (Discover Only)
For Shopify merchants, you have the ability to showcase your products within the Route app. We automatically sync products that are currently live on your online store, but if you would like to turn off any products, you can browse through your catalog and toggle off any product to hide it from appearing to shoppers within the Route app.