In the Merchant Portal, you will be able to view the details for any orders that have been created and have selected Route Package Protection at the time of checkout. This dashboard will help you answer any questions your customers may have about their order and will also provide you with the ability to file an issue on behalf of your customer.
Please Note: Before we dive further into this tab, it's important to understand that creating a claim on behalf of your customer is a powerful tool to assist your customers when they need it, but should only be used in special, one-off situations.
One of the benefits of using Route is having the burden of customer claims lifted. The best practice is to notify your customers that they can file a claim super easily on their own through the app or by following their email instructions they will have received post-Route Protection purchase. You can also provide them with this link to file their claim.


NAVIGATION
To find the Orders tab:
Log in to the

Merchant Portal.

On the left-hand side of your screen you will see a menu:





Click

Orders to open your order dashboard.


Click any of the blue triangles located within this dashboard to adjust how orders are showing up. You can adjust most column views to show you most recent to oldest (vise versa) or highest to lowest (vise versa).


The bottom right corner will give you additional "view" options. You can show 10, 25 or 100 orders per page. And use the previous and next arrows to toggle between pages.


HOW TO FIND AN ORDER
To search for an order:
Click on

"Select Category"

in the top left corner and choose the designated field you would like to search by (Route Order Number, Store Order Number, Store ID, Tracking Number or Customer Email).

Note: You cannot search without designating a category first.




If your order numbers have a hashtag (#123456) or begin with a certain letter combination (ABC-123456),

you must search for these orders in the Portal exactly as they appear

on your site or it may not pull up the order correctly.

If you know the time frame within which the order was placed, you can adjust the date range as needed. Or, remove the time frame entirely to search across all orders for all time.
Note* If you are unable to see an order, chances are it is due to the date range filter. The dashboard will default to showing you the last 30 days. You can adjust that view by changing the date range filter at the top.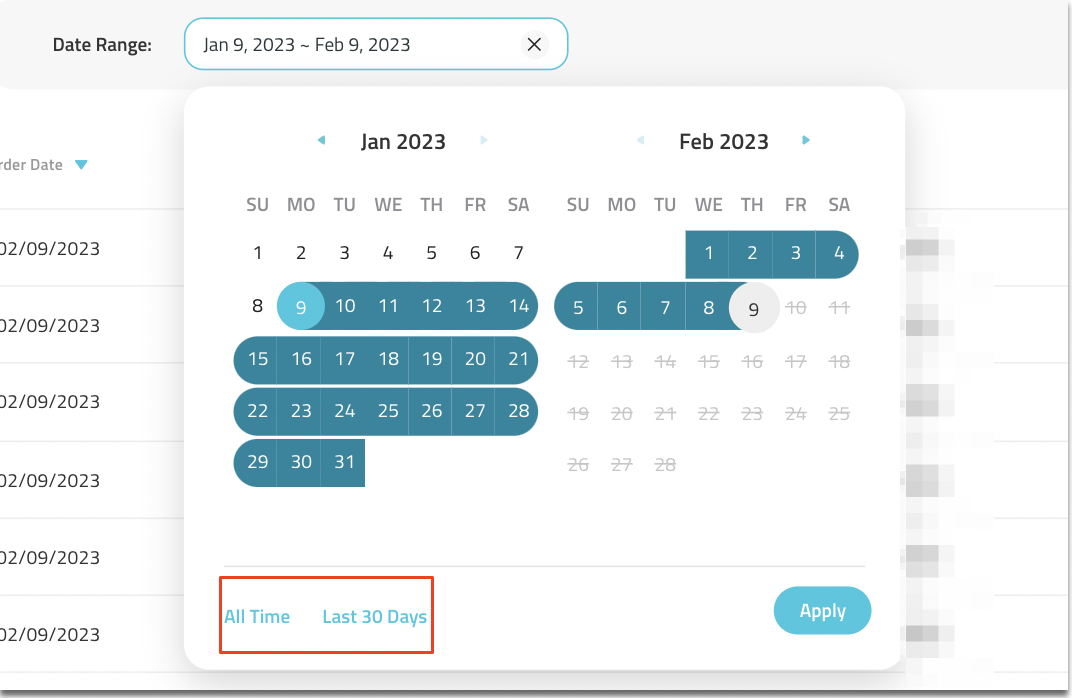 ORDER DETAILS
Click on any row in your order search results to access tracking information, see detailed order information, report an issue on behalf of the shopper, or request a reimbursement. Clicking on a shopper's order will pull up several data points regarding their order information on the right hand side of your screen.



Note: In the Shopper Order Details window you'll notice the tracking number that we have attached to the order. This tracking number is pulled directly from the integration that your store has with us, and from the carrier that is being utilized. If you click on "view," you will see the tracking information that the shopper would see if they were utilizing the Route app to track their package.





At the top, you can report an issue on behalf of the shopper. To learn more, check out "

Filing an Issue on Behalf of Your Customer

". If you have processed a refund or replacement on behalf of the shopper and are seeking reimbursement from Route, click on the request reimbursement button to start the reimbursement process.

Note: the options to Report an Issue and Request a Reimbursement will only show up on orders that are Route Protected.